Welcome to Long Island Cheer! Here at Long Island Cheer, we aspire to create an atmosphere that welcomes athletes of all ages! We provide consistent & high quality instruction to enhance anyone's cheerleading experience. We ensure professional training from our certified, trained, and award winning staff. It is the goal of LI Cheer not only to produce top level athletes, but to provide a challenging, rewarding, comfortable, and positive journey in a well disciplined environment.
As high school & all-star cheerleading coaches & athletes, Mark Donnelly & Melissa Gelardi-Pfaffe, owners of Long Island Cheer, are no strangers to success in competition. Leading former teams to Long Island, Regional & National Championships, they aspire to bring the same dedication, leadership & knowledge to all cheerleaders who become part of the LI Cheer family.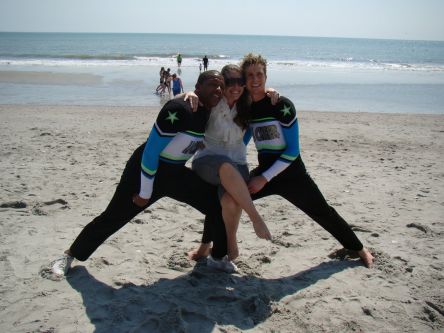 LI Cheer Allstar Director Andre Banks along with LI Cheer Gym Owners Melissa Gelardi-Pfaffe & Mark Donnelly

Long Island Cheer Inc.
40 Trade Zone Court, Ronkonkoma, NY 11779
1-877-CHEER-01
Also Please Follow Our new Twitter Account and Facebook Account!